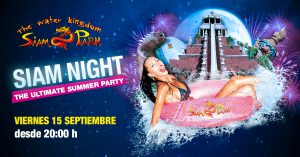 "The Ultimate Summer Party"
is what is called the great party that is being organized at Siam Park to celebrate
nine years of fun
offered by the 
No. 1 Water Park in the World
to its visitors since its opening in 2008. The celebration will take place on Friday, September 15, starting at 8:00 p.m.
This party will be a great golden medal  for the closing of the magnificent season experienced this year in the second edition of
Siam Night
, with more than 25,000 participants since its beginning past July.
Visitors, the true protagonists
Without them, without the more than
7 million people
who have visited us since our inauguration and without all the followers and repeaters who join us year after year sharing their experiences through our social networks, we wouldn't have become what we are today, the number one Water Park in the World, thanks to the
"Travelers' Choice Award"
awarded by TripAdvisor, which we received for the fourth year in a row.
Siam Night says goodbye until next summer with a very special event in which all the attendants with their usual entrance can have fun as never before:
Live music by the DJ's 2-Robles and Le Canarien, welcome cocktail, special offers on drinks and many more surprises.
All this, in addition to the impressive attractions, lush vegetation and mysticism of the ancient Siam Kingdom that is recreated in the Park, will be the keys to make visitors feel like real stars.
Innovation and trajectory
But we don't stop. We want to continue growing and innovating to offer the best leisure option on the Canary Islands. The inauguration of a new exclusive area this year proves that we take these values seriously: The
Champagne Club
is meant for those who are looking for a haven of peace and relaxation between attraction and attraction, a place where you can enjoy fantastic
Balinese beds with magnificent views, a bottle of champagne
and many other premium services.
There are also many international achievements and awards that we have gathered along the years and continue to be maintained thanks to the excellence of our facilities, the technological complexity and the environmental commitment of the Park; such as the
European Star Award
, awarded by the prestigious German theme park magazine Kirmes & Parks Revue to the
"Best Water Theme Park in Europe"
, which we receive year after year since 2012 or the award for
"The Best European Water Slide"
to our attraction
Singha
in 2015 and 2016, considered the most revolutionary "water coaster" in the world.
We thank all our visitors and promise to continue to meet their expectations in the coming years.
Dejar una respuesta