Siam Park, recognised as the world's best water park for five consecutive years by TripAdvisor, continues to reap successes. Travelcircus, a prestigious German web platform specialising in premium travel experiences, has recently awarded Siam Park their prestigious 'Best Water Park in Europe' award.
There are now more than 200 Water Parks across Europe and last year the number of their visitors grew by up to 14 per cent. Travelcircus has carefully examined the 50 most popular Water Parks from a total of 21 European countries and evaluated them according to 10 criteria: seasonality (number of months the park is open); dimensions (area of the water park in m²); fun in the water (number of slides and attractions in total); fun for children (number of slides for children); adrenaline factor (number of extreme slides); theming (design of the park); cost (entry price); demand (Google search volume); Instagram contributions and TripAdvisor ratings.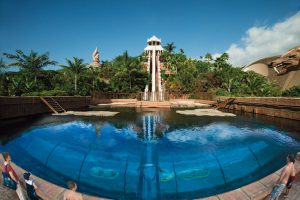 Finally, after a methodical analysis, Travelcircus determined that the best Water Park in Europe is Siam Park. The large area of the park with 185,000m² of pure fun is underlined and, since its inauguration in 2008, it has always offered great entertainment for both young and old. The web platform points out that it's no wonder that Siam Park is recognised as the best water park, both in Europe and the world, because almost no other offers such an impressive design, highlighting its Thai style, or so many exciting attractions as Siam Park. Other highlights include the park's wide range of attractions, with more than 20 slides open to the public; the impressive 28-metre high Tower of Power that passes through a shark pool at the end; and the beach with the world's tallest artificial waves that reach 3.8 metres in height.
On the verge of celebrating its eleventh anniversary, Siam Park maintains its position as a leader in the sector thanks to its excellent service, its magnificent facilities, its responsibility towards the environment, its technological advances, the plurality of awards received and, most importantly, the large number of positive comments from its visitors.