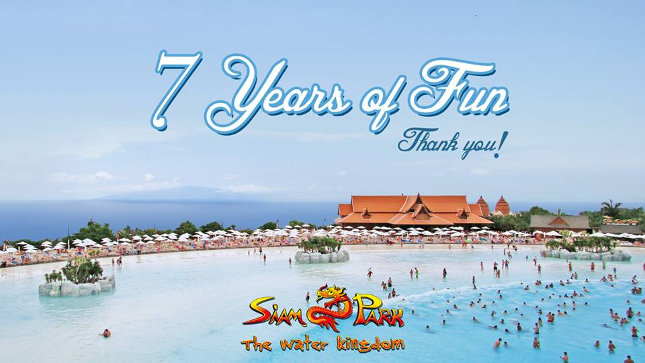 Siam Park celebrates its 7th birthday with almost five million visitors, which have enjoyed its installations to its fullest, and having received for the second year in a row Travellers Choice Award by Trip Advisor as the best water park on the planet (2014/2015). Thus, the water kingdom has managed to reach the top among all establishments of water entertainment in the world.
Almost 6 years have passed since the princess Maha Chakri Sirindhorn from Thailand visited Tenerife in order to inaugurate the Siam Park, the most innovative water park that quickly developed to be the best entertainment activity for the visitors from all over the world and a truly "must" visit. A prove to that are the numerous comments by visitors from different countries, who share daily their opinions using various platforms and more than 116.000 fans that Siam Park has on the social network Facebook.
Exciting slides and magical attractions for the entire family, together with mysterious areas with lush tropical vegetation and the biggest artificial wave of the world, develop this park into an unforgettable place that can be enjoyed at any time of the year thanks to the mild climate of the Canary Islands.
Since Siam Park's opening in 2008, the excellence of its installations, technical complexity and environmental awareness have been the key elements for the international positioning of the park supported by the numerous recognitions received by the park. Among the most important recognitions are the Award as The Best Waterpark in Europe for three consecutive years (2012/2013/2014), and also for the most outstanding attractions such as The Dragon (2012) or Kinnaree (2014).
Siam Park is not only a favorite place for thousands of adrenalin and fun lovers, it has also concerted into an impressive platform for the music and sports events. Such world-known music festivals as Summer Jam, I Love Music, Ritmos Del Mundo and others take place in Siam Park, as well as sport events, like Dunkerbeck Challenge, a surf competition. Among the many celebrities that have been able to enjoy the Siam Park and its attractions are Pedrito, Michel Rodríguez, Javier Bardem, Sergio Rodríguez; Marcelo, Di María, Afrojack, Steve Aoki, who thinks that Siam Park is one of the his most favorite places in the world.
This year, Siam Park surprises once again with its new and spectacular attraction Singha, an aquatic roller coaster created in collaboration with Proslide, a renowned expert in iconic water attractions. This is an absolutely revolutionary and unique attraction in the world, which guarantees an incredible adrenaline rush never before experienced. More than 240 meters of length, high velocity curves and 14 changes of direction will ensure a unique and unprecedented experience in which each adventurer with absolutely new and fun sensations.
As it belongs to Loro Parque, known for its tradition in quality, Siam Park maintains just as high standards regarding environmental awareness and uses newly developed technologies in every aspect, giving an absolute priority to quality. These philosophies, as well as strong efforts and responsible attitude towards the environment represent the main factors for Siam Park's leading position in the world, a benchmark achieved in a matter of only 7 years of existence.
Gánigo Award 2007 (CIT – Tenerife Tourist Board, south Tenerife area)
"Friends of Tourism and Civic Awareness 2008" Award (CIT – Tenerife Tourism Board, Santa Cruz de Tenerife)
The British Guild of Travel Writers Tourism Awards – Globe Award 2010
Award Adeje Lustral Emprendedores Turísticos 2010 (Iluste Ayuntamiento de la Histórica Villa de Adeje)
Blue Award 2011 – Especial Award "Environmental Responsibility" (TUI)
European Star Award 2012 "Best Aquatic Theme Park in Europe" (Kirmes & Park Revue Magazine)
3rd Award "Best Aquatic Ride in Europe" to Dragon, 2012 (Kirmes & Park Revue Magazine)
Executive Board Award (WWA – World Waterpark Association)
Premio al Desarrollo Turístico Impulso Sur 2013 (Periódico Diario de Avisos)
Travellers Choice 2013 (Trip Advisor)
European Star Award "Best Waterpark 2013" (Kirmes & Park Revue Magazine)
Travellers Choice Award 2014 "Best Waterpark Worldwide" (Trip Advisor)
European Star Award "Best Waterpark 2014" (Kirmes & Park Revue Magazine)
1st  Award "Best Aquatic Ride in Europe" toKinnaree,2014 (Kirmes & Park Revue Magazine)
Travellers Choice Award 2015 "Best Waterpark Worldwide" (Trip Advisor)