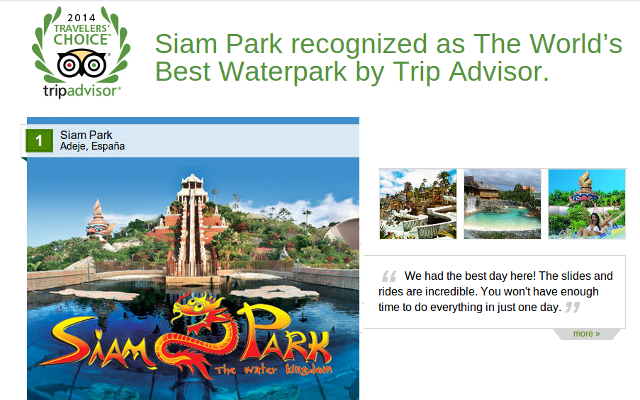 Siam Park continues to reap success and this week received the International Award for the best Water Park in the world from Trip Advisor, the world's biggest travel website with 260 million users per month. The award was presented during the second edition of the Travellers' Choice Awards which was created by this website and which honours the best sights and attractions in the world, based on the views and recommendations of travellers.
In total for this edition, 300 winners were identified, including the World's Top 25 and listings for Asia, Canada, China, Europe, India, South America, South Pacific, United Kingdom and the United States, which resulted in Siam Park being the chosen as the world's best water park. These awards are based on the quality and the quantity of millions of valuable opinions received by visitors related to attractions in each destination. Thanks to the positioning of Siam Park as a theme park with water attractions, the park has established itself as a revolutionary park in this sector, above other theme parks of the world with much bigger investments.
Each year this platform publishes an average of 150 million comments and opinions, is present in 42 countries covering 25 different languages and is the place where travellers from all around the globe consult not only the opinions and experiences of other tourists, but also share their own experiences. They receive 100 new contributions every minute and only last year there were over 50 million new comments.
This latest international recognition joins four other important awards received this summer. The Biosphere Park certificate, given to Siam Park for its environmental commitment and its support to the destination which was given by the Institute of Responsible Tourism, linked to UNESCO, which certifies these quality marks to the world's best touristic landmarks according to the highest standards in sustainability and respect for the environment. Apart from this important award, Siam Park is also certified with the ISO 9000, ISO 14.000 and EMAS standards, being absolute proof of true commitment to the highest standards in the sector.